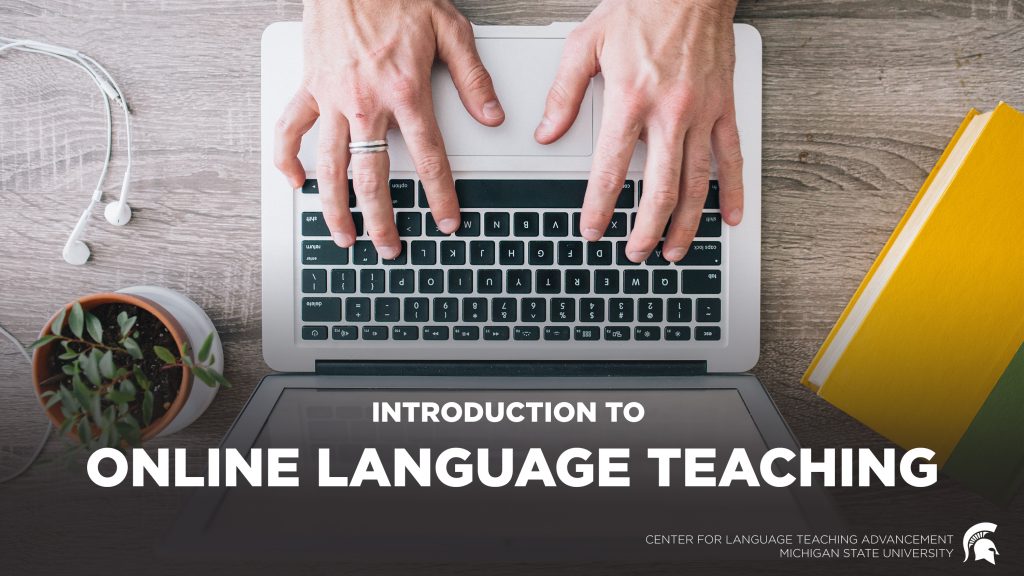 Applications for the Spring 2020 cohort are now CLOSED.
As part of our commitment to supporting LCTL instruction, we are happy to put out a call for applications for our Introduction to Online Language Teaching course, open to all LCTL instructors within the Big Ten Academic Alliance in Spring 2020!
Introduction to Online Language Teaching is a fully online course designed for experienced classroom instructors who want to make the transition to teaching languages online. While each participant will bring his/her own pedagogical background, the course assumes a task-based, proficiency-oriented view of language instruction. Previous online teaching experience is not required, although everyday fluency in the use of web tools (email, collaborative tools, content sharing, etc.) as well as a basic ability to use a Learning Management System (e.g., Canvas, Moodle, Blackboard, etc.) is presupposed. Course participants will gain an understanding of key criteria and conceptual frameworks used to describe online pedagogy, and will develop expertise in the areas of course quality and design, accessibility, and media.
The online nature of the course will expose participants to many of the affordances and constraints of an online environment for language teaching and learning, allowing them to experience a student's perspective firsthand. This includes engaging in a variety of tasks and discussions, which are meant to be a non-comprehensive sampling of the possibilities of online learning. Participants will receive feedback from the instructors and, by the end of the course, will have developed a principled plan for developing an online course at their own institution. For more information, see the course outline below.
Course Details
Length: 10 weeks
Weekly expected workload: 3-5 hours (mostly asynchronous with 2-3 synchronous meetings required during the course of the semester)
Dates: February 3rd – April 10th
Cost: Free for BTAA LCTL instructors (limited enrollment, see below for details)
Learning Platform: D2L (MSU's LMS)
No required materials other than those provided within the learning platform
Technology Requirements: computer with stable internet connection; webcam and microphone; mobile device (recommended)
Instructor: Luca Giupponi, LCTL Partnership Technology Director
Application Requirements
Because space is very limited in the course, participants will be selected based on the strength of the application (note that a strong application does not require previous online teaching experience). Applicants should submit:
a resume
a cover letter discussing their interest in online language teaching, detailing how taking this course will impact their career and institution, and committing to the workload described above
Deadline: All of the above application components must be submitted in ONE email (preferably one PDF) to lctlpartnership@celta.msu.edu by Friday, December 6th, 2019. Selected applicants will be notified before the end of the year.
Course Outline
Week 1: Online Language Teaching: Beliefs and Readiness
Week 2: Characteristics of Successful Online Instructors
Week 3: Presence and Communication
Week 4: Online Course Quality
Week 5: Accessibility and Media
Week 6: Teaching the Interpretive and Presentational Modes Online
Week 7: Teaching the Interpersonal Mode Online; Synchronous Sessions
Week 8: Managing Workload
Week 9: Visual Design for Online Learning
Week 10: Develop an Online Course "snapshot"
What others have said about the course
Thank you so much for the wonderful course. It was a fantastic learning experience for me, and I enjoyed those ten weeks. I think what I enjoyed most about the course, in addition to the excellent content and great discussions with colleagues, was actually observing what you did as instructors and how you taught. I learned a lot from your example, so thank you very much for that.
University of Illinois Instructor
Thank you for making me look good with the department chair!
Ohio State University Instructor
Thank you again for all your work with the OLT course. It was truly an eye opener for me!
University of Illinois Instructor
Thank you very much for the past 10 weeks and the course is truly amazing. I have learned so much. You have been an amazing teacher, very responsive and supportive and you set a great example for me to follow. Thank you again!
Indiana University Instructor