The Less Commonly Taught Languages (LCTL) and Indigenous Language Partnership has funded several projects on Anishinaabemowin across the Great Lakes Region. Project descriptions and progress updates for a few successful proposals can be found below. A map of the different partners can be found further below on the page.
Completed Projects
Bay Mills Community College – Bay Mills Anishinaabemowin Instructional Videos and Educational Materials Project
Bay Mills Community College (BMCC) developed a series of instructional videos and audio-visual teaching tools for Anishinaabemowin learners in the form of interviews between an instructor and a student. Once the interviews were completed, handouts and other written materials were developed for use alongside these videos for high school learners and teachers. Additionally, the Boys and Girls Club of Bay Mills worked alongside the BMCC Nishnaabemwin Pane Language Immersion Program to develop a coloring book for young learners.
College of St. Scholastica – Virtual Language Tables
College of St. Scholastica (CSS) held 20 online language tables and 5 in-person tables with an Ojibwe elder first-speaker from beginner to intermediate levels. Additionally, 365 participants registered for a month-long symposium focused on storytelling. The symposium allowed participants to hear traditional stories in both English and Ojibwe. Finally, CSS and Fond du Lac Tribal and Community College (FDLTCC) also hosted the Biboon retreat, which focused on bird observation. Participants hiked with a Traditional Ecological Knowledge Keeper and a biologist from the Great Lakes Indian Fish & Wildlife commission, learning in Anishinaabemowin about local birds. Two drum feasts were also held in both October and December 2021.
Gaganoozh – Digital Hand Puppets for Interactive Language Videos
The Gaganoozh team developed, translated, and created audio recordings of the book "Rabbit and Bear Paws: North" by Chad Solomon that form the basis of the augmented reality puppets. "We wanted to create something that would inspire Indigenous people of all ages to embrace the traditions of our ancestors in a modern way," says Solomon, the designer of Gaganoozh the app and a proud member of the Henvey Inlet First Nation in Ontario, Canada. The story has been animated and transformed into an interactive video for young learners to use as a language resource. The app is free online and on mobile devices for general use. An estimated 15,000 students and teachers participated in the virtual event associated with the project.
Update: Gaganoozh is now live in the App Store! To read more about the app click here.
Saginaw Chippewa Tribal College – Strengthening Community Based Language Revitalization – Children's Books Translations
The Saginaw Chippewa Tribal College (SCTC) built a multigenerational team to translate children's books and games into Anishinaabemowin. They put all materials online, creating a virtual learning space where language learners of all levels could engage. In addition to materials development, SCTC hosted a variety of age-appropriate language immersion activities for families at the SCIT Annual Pow-Wow on July 24, 2021. "One of the biggest impacts was seeing how excited participants were to have an opportunity to experience using Anishinaabemowin," said a representative of the project. The project has inspired future goals, including developing a certificate program for Ojibwe teachers at SCTC.
Pow–Wow on July 24th, 20
Pokagon Band of Potawatomi Indians – Birch Bark Book Collection
Harnessing the affordances of multimodal learning, the Pokagon Band of Potawatomi Indians created an audiobook of 19th century tribal patriarch Simon Pokagan's published stories. The stories, from his birch bark collection, were read by two elders and two younger language students. The recordings were made freely available to the larger Anishinaabemowin language learning community. Future plans for this project include creating enhanced e-books which allows readers to click on words and phrases to hear pronunciation.
Ottawa Tribe of Oklahoma – Language Camp at the Powwow
The Ottawa Tribe of Oklahoma held a three-day Anishinaabemowin language camp in conjunction with their annual powwow. Through dances and cultural programming, attendees of all ages gained knowledge and language about ceremonies, prayer, Medicine Wheel teachings, and traditional foods for decolonizing diets. The event connected Oklahoma Ottawas with their Great Lakes relatives by highlighting their shared cultures and traditions, with the broader goal of providing students with the skills and resources to incorporate Anishinaabemowin into their daily lives. Participants reported that they loved learning about their history and traditions while be surrounded by people speaking their language.
East Jordan Public Schools – Let's read! Let's play! Let's eat!
The East Jordan Public School District put on a language and culture immersion program at the LTBB Trival Headquarters for elementary, middle, and high school students. Students engaged in hands-on art activities while learning about Native American artists. Most importantly, older students served as mentors to the younger students to help create a community of language learners in East Jordan who are excited about language revitalization. One of the activities was playing the card game "Giigoonhken" ("Go Fish") – as an added twist, table talk was allowed but only if done in Anishinaabemowin! As a surprise gift, all students got to take two bilingual books with them to practice. One of the teachers shared how excited her second graders were when they first saw the bilingual books: "Right away, they asked me if they got to keep a copy of the book. I was going to surprise them with it on another day, but couldn't resist saying yes at that moment!"
Ongoing Projects
Bad River Tribe – Interactive Language Tables
The Bad River Tribe of Lake Superior Chippewa will hold two events to promote the transmission of both linguistic and cultural knowledge within the community. The first will be a series of seasonal harvesting workshops to discuss the harvesting of plants and animals. The second will be a winter storytelling event where elders shared aadizookaanag (stories) to pass down time-honored teachings about trapping, ice fishing, and sugarbush preparation to the next generation.
Bodwéwadmimwen Ėthë Ték, Inc. – Bilingual Books
Of the three language groups that make up the Three Fires Confederacy, the Potawatomi language is the most endangered. Bodwéwadmimwen Ėthë ték (The Center for Potawatomi Language) is combating this trend by publishing a series of bilingual books for learners of Potawatomi. These books are the product of interviews with L1 Potawatomi speaker elders as they narrate historical stories. The books will be published using the Learner Writing System, an orthography designed specifically for students who may not have access to L1 speakers of Potawatomi.
Match-E-Be-Nash-She-Wish Band of Potawatomi Indians (Gun Lake) – Virtual Study Guides
The Match-E-Be-Nash-She-Wish Band of Pottawatomi Indians are creating virtual illustrated study guides. Through an iterative design process, where community members select topics and provide feedback on content, four multimodal study guides will be created. The guides are geared towards different age groups and language proficiency levels.
Indigenous Enterprise, LLC. – Ojibwe resources online
Indigenous Enterprise, LLC. is bringing Ojibwe language learning materials to social media. The team is creating 450 short- and long-form multimodal videos in the Ojibwe language to disseminate on Twitter, Facebook, LinkedIn, and Instagram. Their overarching goal is to build a virtual community of Anishinaabemowin learners by connecting them with high-quality materials.
Nokomis Cultural Heritage Center – Family Camp
The Nokomis Cultural Heritage Center, in partnership with the Indigenous Youth Empowerment Program and Saginaw Tribal Community College, is addressing the gap of intergenerational Anishnaabemwin programs in Lansing, Michigan through Anishnaabemwin Gbeshing, a language day camp. Through family-oriented programming and take-home materials, the camp seeks to encourage the use of Anishinaabemwin in the home. Finally, the Nokomis Culturla Heritage Center will create a documentary on fluent Anishinaabemwin speakers in mid-Michigan to be shared within communities and internationally through festivals and online.
Map of Anishinaabemowin Projects
Click here for an interactive map of our Anishinaabemowin Projects.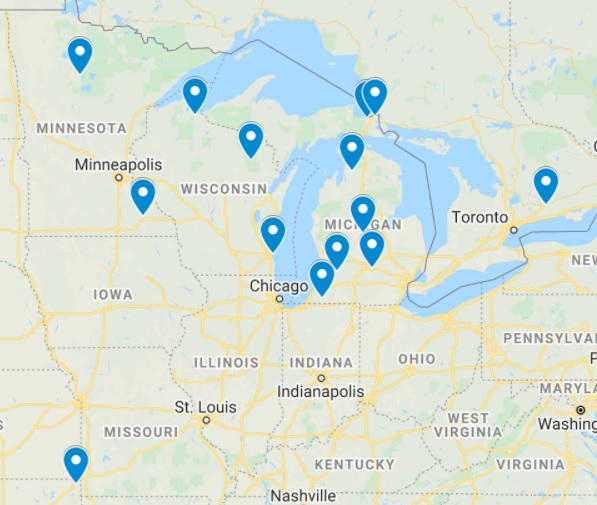 Interested in submitting a proposal? See the Pre-Proposal Guidelines page for more information on how to submit a project to the LCTL and Indigenous Language Partnership.