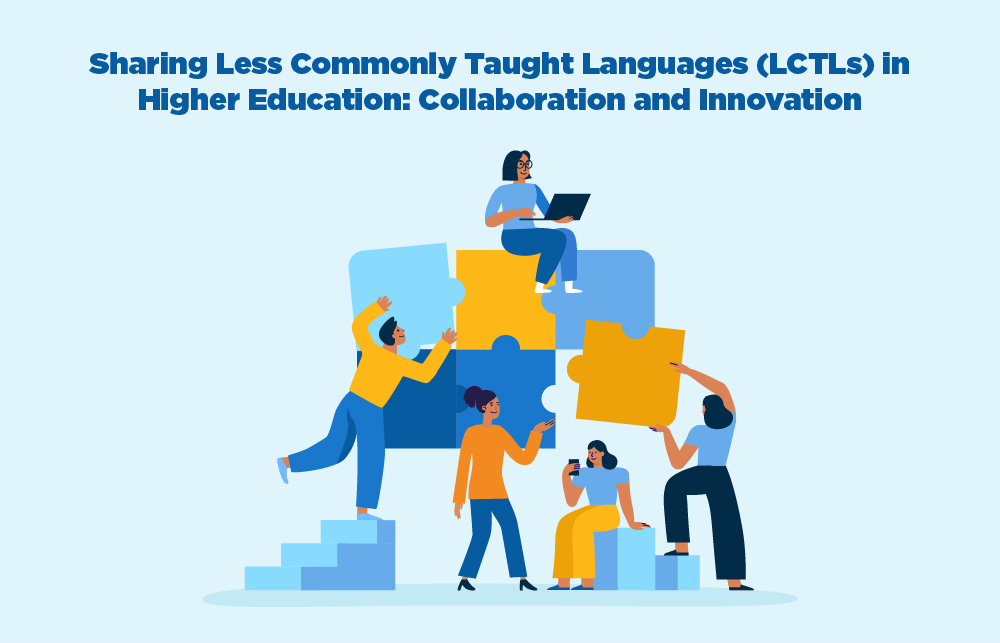 The submission portal for abstracts is now closed.
Description of Volume
Working Title: Sharing Less Commonly Taught Languages (LCTLs) in Higher Education: Collaboration and Innovation
Editors: Emily Heidrich Uebel (Michigan State University), Angelika Kraemer (Cornell University), Luca Giupponi (Michigan State University)
Background
Less Commonly Taught Languages (LCTLs), that is, languages other than French, German, Spanish, or English, serve the diverse needs of students from various backgrounds, from providing an opportunity for language development for heritage students, to specialized language training for researchers and students. However, there are limitations that LCTLs inherently face when their scope is narrowed to a single institution, including issues of instructor isolation, difficulty in offering advanced courses or sustaining course sequences, and minimal availability of pedagogical materials compared to commonly taught languages.
Due to their smaller size, LCTL programs are often the perfect place to experiment or pilot new ideas. Over the years, consortia and individual institutions have collaborated using a variety of approaches. For example, the Big Ten Academic Alliance's CourseShare program allows students from any member institution to request a language course. Then, a coordinator will work to match them with the requested course offered at another institution.
While some collaborative efforts have been sustained over many years and through leadership changes, other programs are dependent on one person's passion. However, the effort of promoting and sharing LCTLs across institutions needs to be approached strategically and systematically if we hope to make a lasting impact. Complementing conversations held at the Shared LCTL Symposium (SLCTLS) and within organizations like the National Council of Less Commonly Taught Languages (NCOLCTL), this volume hopes to highlight the affordances of sharing LCTLs across institutions, focusing on two fronts: inter-institutional collaboration and pedagogical innovation.
The first front focuses on how institutions, programs, and LCTL instructors can work together rather than compete against one another. By collaborating and thinking across institutional boundaries, innovative solutions for offering a wider range of languages and levels can be explored.
The second front focuses on how innovation and reform can make LCTL programs and courses more attractive to students. Examples include advanced proficiency-based courses, Language for Specific Purposes courses, project-based language learning, online and distance learning, and open educational resources, which all could be ways to address needs of students that might be overlooked in traditional language programs. (Authors must emphasize how these pedagogical innovations impact the sharing of LCTLs. See example/recommended topics, below.)
Who is this book for? (Target Audience)
The intended audience for this volume is broad: Language educators, researchers, and professionals; educational administrators and planners; policy makers and professional organizations.
This publication offers a valuable resource for developing and reimagining approaches to sharing LCTLs. It also provides a basis for understanding the potential and unique value of LCTLs and inter-institutional collaboration. It can serve as a primer for those new to LCTL sharing and as inspiration for seasoned educators and administrators.
Structure
The final structure of the book will depend on the final publisher, but we anticipate that this book will have around 15 chapters, each about 5,000-7,000 words in length.
Recommended Topics
Recommended topics include, but are not limited to, the following:
Effective/successful collaborations between instructors, programs, and/or institutions

Curricular continuity/program articulation (variety of languages and/or course topics, higher proficiency, etc.)
Inter-institutional credentials (minors, majors, certificates, etc.)

Administrative and financial models for sharing courses
Examples of successes and/or failures in course sharing
Description of models and/or best practices
Studies on effectiveness/proficiency gains in shared courses
Role of technology in supporting coordination and course sharing
(If focus is given to the following topics, authors must emphasize how these pedagogical innovations impact the sharing of LCTLs.)
Rethinking the traditional credit structure (1-credit options, flexible credits, etc.)
Distance and online language learning
LCTL faculty training and development
Student voices

Tentative timeline
February 1, 2022 – Abstract submission deadline
May 2022 – Communication with authors to write full chapters
September 2022 – Full chapters due
November 2022-January 2023 – Review of chapters (we anticipate that all contributors will receive a submission to review)
2023 – Anticipated publication