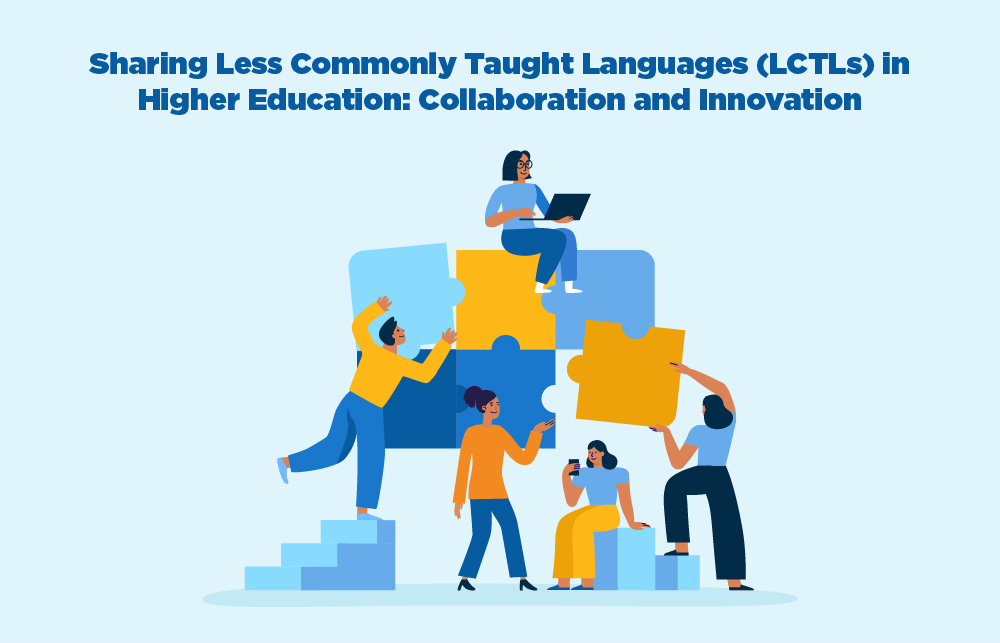 Sharing Less Commonly Taught Languages in Higher Education: Collaboration and Innovation is a valuable resource that both language educators and administrators can utilize to share less commonly taught languages (LCTLs) at different institutions and across different levels. This edited volume brings together the voices from various scholars, representing different approaches to LCTL course sharing. The volume highlights how institutions, programs, and LCTL instructors can work together rather than compete against one another. By collaborating and thinking across institutional boundaries, innovative solutions for offering a wider range of languages and levels can be explored. The book also showcases how innovation and reform can make LCTL programs and courses more attractive to students whose interests and needs might be overlooked in traditional language programs. The volume captures innovation, reforms, and collaborative efforts institutions can exercise to ensure successful partnerships. 
The volume begins with an introductory chapter from the editors reviewing various definitions of less commonly taught languages (LCTLs) and explaining the structure of the volume.
The volume is grouped thematically into four parts (full volume outline and contributors below). 
Part 1 focuses on existing consortia outlining their development throughout the history, affordances and challenges, and future directions necessary for successful collaboration.
Part 2 introduces the reader to collaborative efforts in curriculum development, as well as outreach and partnership between educational institutions.
Part 3 seeks to uncover the processes beyond sharing a particular language and examines how collaboration can increase enrollment in less commonly taught languages in addition to having students opt for upper-level classes.
Part 4 covers the design of assessments, approaches to expanding LCTLs beyond institutional access and offers a blueprint for successful course sharing.
Below is the list of contributors and the structure of the volume:
Introduction
Sharing Less Commonly Taught Languages in the 21st Century

Emily Heidrich Uebel, Angelika Kraemer, Luca Giupponi
Part I: Sharing Structures and Established Consortia
Consortial Course Sharing: A Look at the History and Foundations of the Big Ten Academic Alliance CourseShare Program 

Katherine Galvin, Keith Marshall, Laurel Rosch

Scaling up Sustainably: Affordances and Challenges of Shared Language Courses

Lauren Rosen, Nicholas Swinehart, Stephanie Treat, Mia Li

The Shared Course Initiative: Less Commonly Taught Language Collaboration at Columbia, Cornell, and Yale
Ten Years of Collaboration: The Duke-UVA-Vanderbilt Consortium 

Deborah S. Reisinger, Nathalie Dieu-Porter, Miao-Fen Tseng
Part II: Curriculum Development and Building Program Capacity
Language Learning Through Three Iconic Cities: A Shared Approach to Curriculum Development in Arabic, Hebrew, and Turkish

Ragy Mikhaeel, Oya Topçuoğlu Judd, Hanna Tzuker-Seltzer, Franziska Lys

Articulating Visions of South Asian Less Commonly Taught Language Instruction for Sustainable Growth

Mithilesh Mishra, Shaheen Parveen, Syed Ekhteyar Ali, Sarah Beckham

Building Less Commonly Taught Language Pipelines: Sharing Russian Language Online with Kansas High School Students
Expanding Language Programs via Institutional Partners: Notes from a Small Island
Part III: Case Studies
Out of Challenges Come Opportunities: Innovative Collaboration in Teaching East Asian Languages

Vance Schaefer, Tamara Warhol

Sharing the Teaching of Kaqchikel Maya Across Universities
Sharing African Language Courses: Embracing Initiatives with Caution
Inter-Institutional Collaboration in Arabic Language Instruction: Successes and Challenges

Hanada Al-Masri, Cheryl Johnson

The Portuguese Language Working Group: A Successful Partnership

Ana Maria Fiuza Lima, Raquel Castro Goebel
Part IV: Sharing Strategies
Intercultural Language Learning Communities: Teaching Strategies in the Shared Less Commonly Taught Language Classroom
Building a Sustainable Less Commonly Taught Language Community of Practice Through Assessment-Driven Reverse Design

Catherine C. Baumann, Ahmet Dursun, Phuong Nguyen

Languages Without Borders: Promoting Equitable Access to Language Education

Michele Anciaux Aoki, Russell Hugo, Veronica Trapani-Huebner, Bridget Yaden

Building a Community of Practice: Pathways to Less Commonly Taught Languages Sharing  

Angelika Kraemer, Danielle Steider