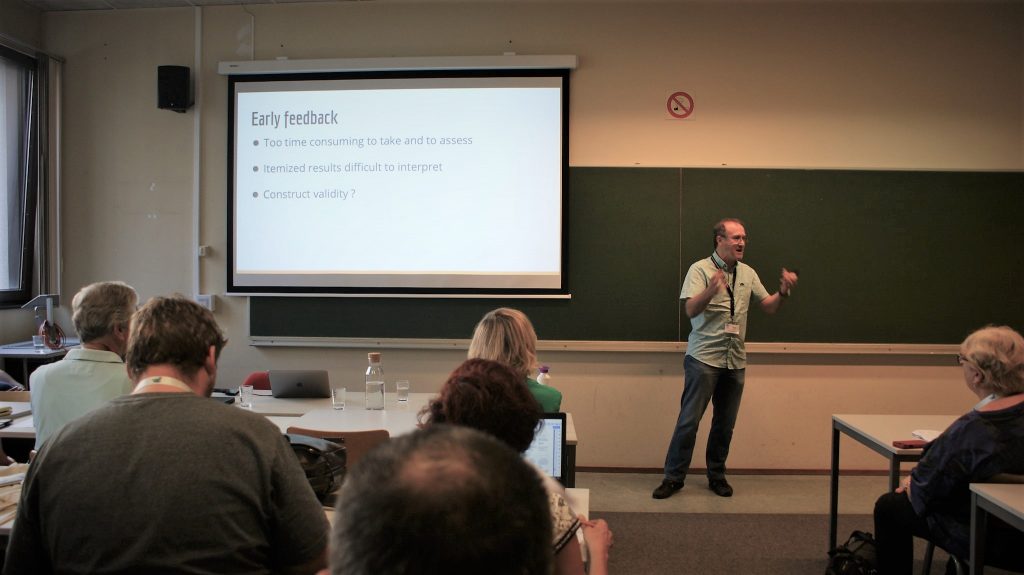 This past August, Koen Van Gorp and Luca Giupponi attended and presented at the EuroCALL 2019 (Computer Assisted Language Learning) Conference in Louvain-la-Neuve, Belgium. The theme for this year's conference was CALL and Complexity, "constituting a challenge to be embraced. Languages are known to be intrinsically complex linguistically and so are the determinants of learning (additional) languages."
The presentation was titled, Assessing Teacher Readiness for Online Language Teaching: Validating an Online Assessment Instrument, in which they discussed the lessons learned in their work supporting Less Commonly Taught Languages (LCTL) instructors in developing online courses.
Van Gorp and Giupponi worked together to conceptualize an Online Language Teaching (OLT) readiness framework, in the hopes of stimulating discussion around the technological, pedagogical and evaluation competencies current and future OLT teachers need in order to be successful and effective. By linking these competencies to four levels of expertise, the capacity is there to cater to the needs of both
the teacher who has no real online teaching experiences but who transitions from a face-to-face classroom to a blended or fully online environment, and
a more proficient teacher who is already teaching online but wants to improve their OLT skills.
Through this work, Van Gorp and Giupponi hope to have designed a practical framework that can serve as the basis for an assessment tool providing valid interpretation of teachers' readiness to teach online. In next steps, they will design and provide validation evidence for a performance assessment instrument based on the identified levels and competencies. Ultimately, they hope the framework will inform professional development initiatives and curricula of teacher education programs to support online teaching.