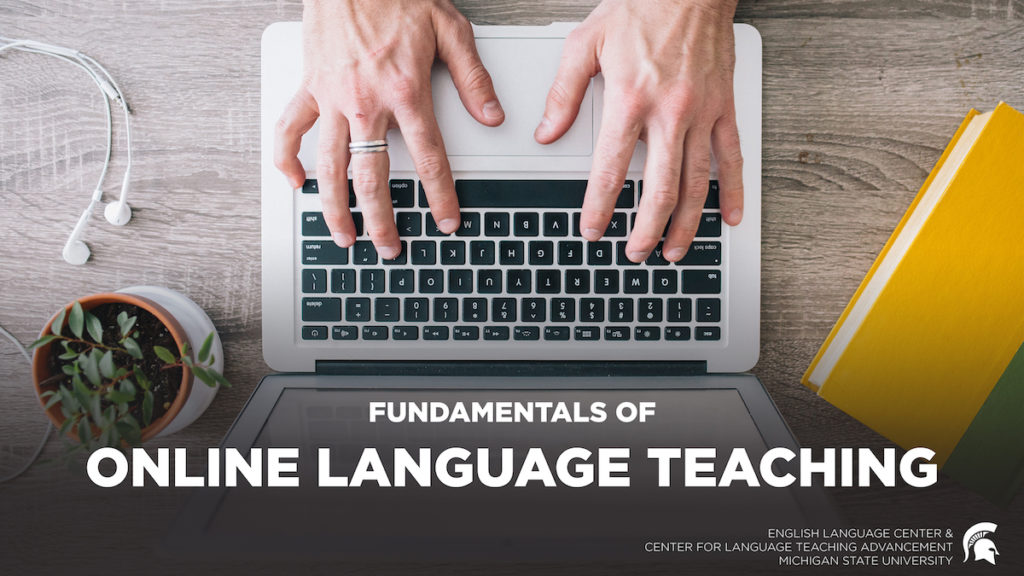 Applications for the Spring 2021 cohort are now CLOSED.
Dates: March 15 – April 23, 2021
Deliver Excellent Online Language Instruction
Online language teaching can be just as effective as face to face (if not more) when we have a solid understanding of how the different format impacts what we do as instructors.
As part of our commitment to supporting Indigenous instruction, we are happy to put out a call for applications for our Fundamentals of Online Language Teaching course, open to all Anishinaabemowin language instructors.
Our goal is to help you take what you already do well––teaching, modeling, nurturing language growth, and giving feedback––and realize its potential in the online environment.
Fundamentals of Online Language Teaching is a fully online course designed for experienced classroom instructors who want to make the transition to teaching languages online. While each participant will bring his/her own pedagogical background, the course presupposes a task-based, proficiency-oriented view of language instruction. Course participants will gain an understanding of key criteria and conceptual frameworks used to describe online pedagogy, and will develop expertise in the areas of course quality and design, accessibility, and media. This section of Fundamentals of Online Language Teaching will also incorporate some of the unique challenges faced by Indigenous language instructors. This course will be valuable for instructors working within an educational setting (primary, post-secondary and/or higher education) as well as those working with community-based language revitalization.
The online nature of the course exposes participants to all of the affordances and constraints of an online environment for language teaching and learning, allowing them to experience a student's perspective firsthand. This includes engaging in a variety of tasks and discussions, which are meant to be a non-comprehensive sampling of the possibilities of online learning. Participants will receive feedback from the instructor and, by the end of the course, will have developed a principled plan for developing an online course at their own institution. For more information, see the course outline below.
Instructors of any Indigenous language are welcome to apply. However, examples and resources used in the course instruction may focus primarily on Anishinaabemowin.
About the Instructor
John-Paul Chalykoff (Michipicoten First Nation) is currently the Anishinaabemowin instructor at Michigan State University. He has also taught Anishinaabemowin to K-8 and community classes for Michipicoten First Nation.
Course Details
Length: 6 weeks
Dates: March 15 – April 23, 2021
Weekly expected workload: 5-7 hours (asynchronous)
Cost: Free
Learning Platform: D2L (MSU's Learning Management System)
No required materials other than those provided within the learning platform
Technology Requirements: computer with stable internet connection; webcam and microphone; mobile device (recommended)
Not for credit; a certificate will be provided to participants upon successful completion of the course.
In addition to perpetual access to the course materials, participants gain access to a private Facebook Group with other OLT alumni, as well as a companion website with extensive examples of online language courses designed by OLT faculty.
Course Outline
Week 1: Getting Started: Instructor Readiness + Course Design Basics
Week 2: Characteristics of Successful Online Instructors: Presence and Communication
Week 3: Quality, Accessibility, and Media
Week 4: Language Learning Tasks
Week 5: Learning Environment Design + Workload Management
Week 6: Preparing a Course Snapshot
Application Requirements
Because space is very limited in the course, participants will be selected based on the strength of the application (note that a strong application does not require previous online teaching experience). Applicants should submit:
a resume
a cover letter discussing their interest in online language teaching and familiarity with learning technologies, detailing how taking this course will impact their career and institution, and committing to the workload described above
Deadline: All of the above application components must be submitted in ONE email (preferably one PDF) to olt@cal.msu.edu by Sunday, January 31st, 2021. Selected applicants will be notified before the end of the year. Questions about the course should be directed to John-Paul Chalykoff at chalykof@msu.edu.
---
What others have said about the course
I went into MSU's Introduction to Online Language Teaching expecting to learn how to create and implement an online language course. What I took away from this experience was so much more. In addition to discovering the ins and outs of online course design and developing successful online language learning tasks, I received a refresher in what makes pedagogy effective regardless of the instructional mode. I gained valuable strategies for making my courses more engaging and accessible and useful insights into managing my own workload. The opportunity to interact with colleagues from near and far was an added bonus, and I benefited greatly from the expert instructors at MSU. For me, deciding to take this course was one of the few positive outcomes of the global pandemic.
Jeanne M. Schueller, Ph.D.
Department of German, Nordic, and Slavic+
University of Wisconsin–Madison
---
Thank you for making me look good with the department chair!
Richard Henricksen, Ph.D.
Assistant Language Program Director, Department of Spanish & Portuguese
The Ohio State University
---
Taught by a team of knowledgeable, accessible and responsive instructors, the MSU OLT course has given me a solid foundation in online pedagogy and the confidence to use a new set of tools to maximize the effectiveness of my online delivery.
Maryann Overstreet, Ph.D.
Chair and Professor, German Program
University of Hawai'i at Manoa
---
It was truly an eye opener for me!
Jeeyoung Ahn Ha
Director, Korean Language Program, Department of East Asian Languages and Cultures
University of Illinois at Urbana-Champagne
---
It has been a very fulfilling journey learning the basics of online language learning and teaching with you. You made everything feel so interesting and doable, despite the fact that all the readings pointed towards the need for online teachers dedicating a lot of time to successfully conduct teaching online. Whereas you also emphasized the same, you gave me so much hope by guiding us through the aspects of online language courses that would enable us to be thoroughly prepared as novice online language instructors from the word go. I have learned so much about how to relate to my online learners. I have found myself reaching out to them more and encouraging them to explore the numerous opportunities that remote teaching/learning offers.
Peter Mwangi, Ph.D.
Professor, Program of African Studies
Northwestern University